Spark 3D
Advancing 3D Printing in Education
Capstone
A Mobile Makerspace
From rapid prototyping to medical applications and jet engine parts, 3D printing is a transformative future technology. In addition to industry, 3D printing can be a tool for educators to increase engagement and improve STEAM learning. For students to fully capitalize on the potential of 3D printing they must be given the knowledge and access to this technology. My project integrates hardware and software with existing printers to create a solution that is simple yet suitable for a variety of applications. The project works to address the critical pain points identified in the research of knowledge, accessibility, safety, and adaptability.
Scope:
Research
UX/UI
Prototyping
Manufacturing

Working on this project brought connections thorough Cincinnati of people and organizations that are all working towards the similar goal of encouraging STEM education in schools.
Mentors
Uday Sheth: R&D Director, P&G STEM Coalition
Mary Adams: Director, Greater Cincinnati STEM Collaborative
Brenda Mcgee: Technology Coordinator, Cincinnati Public Schools
Hardware
Accessibility - Safety - Versatility
Software
Knowledge - Support - Problem solving
Each cart comes with a tablet to guide users through the setup process, printing, and problem-solving. The interface provides a step by step process so that even a first time user can quickly start printing. Using a 3D printer will always come with issues; the tablet provides a simple way to diagnose and fix a problem than a manual or searching online. The tablet interface supports the users so they can use the printer and build technical and problem-solving skills.
Follow set up instructions on tablet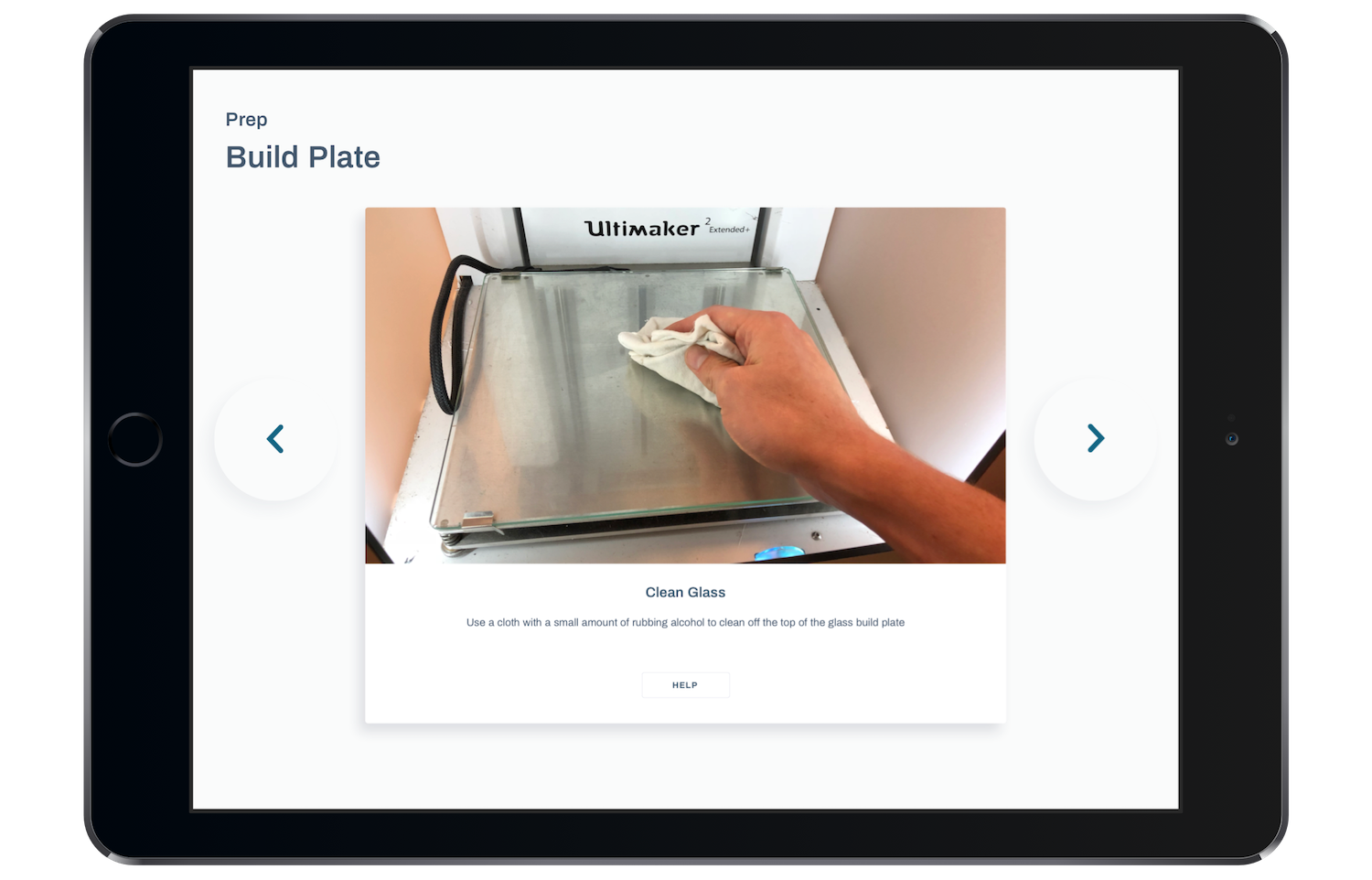 Step by step on on to print
Choose from existing prints
Identify and address problems
Every school has a different setup and structure requiring a different implementation. To encourage and simplify adoption 3D printing the cart is intended to allow for as much adaptability in use and location as possible.
Once assembled, the user prints out parts to attach the doors and cover to the printer. This first print ensures the printer is working and demonstrates some of the potentials of the printer.
The components are designed to be an easy and reliable first print. The parts also illustrate the possibilities of a 3D printer and encourage use and modification.
Hinges
Simple to print and work right off the build plate, the hinges add a door to the front of the printer for safety and better prints. They attach to the printer with adhesive tape and hold the acrylic with screws.
Cover
The cover has a removable door with 3D printed hinges. This keeps the printer safe and improves print quality but still allows easy access when needed.
Why Build Local
The final design can be built efficiently at any scale of manufacturing. Avoiding tooling cost or complex manufacturing keeps the unit cost low even at small volumes and avoids overheads. With the plans, the design could be similarly sourced in any city or built DIY. The design can be easily modified. The final cart was manufactured by third-party vendors then fully assembled. The design goals of local sourcing and low manufacturing cost means that programs like the Greater Cincinnati STEM Collaborative a set of carts easily with grant money.